Modern comforts with a twist of history.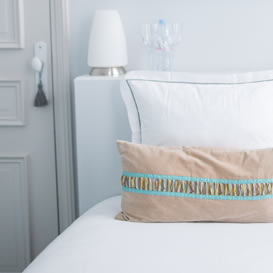 The Garden Suite
Begin the day by enjoying the view of the traditional French formal garden. In season, roses abound and verdant green glistens with dew; the junior suite is conceived to calm the mind. Comfortable and light, the garden brings you closer to nature even while you are in the historic town centre of Chartres. The sound of the bells of the old quarter may call to mind an epoch when time was not measured by the minute.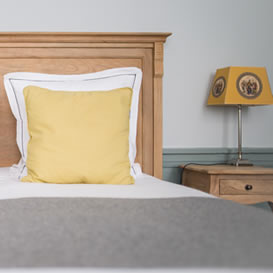 Charles V Suite
This elegant suite on the second floor opens to both the paved courtyard and the rose garden. This apartment features a timber wall facing the entry while intimate, gentle colors will greet you in each room. The view from the bedroom reveals the garden's elaborate design and perspectives. The dining area, living area and kitchen will make you feel right at home.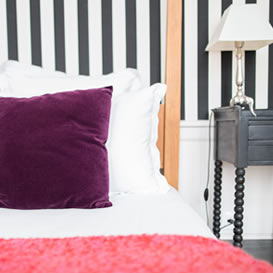 The Bishop Suite
The house has known twists of history. This suite was at one time a private chapel, at others a reception hall. Today, the ancient and the modern are combined to offer a harmonious and peaceful atmosphere for a relaxing stay. The high ceilings, a four-poster bed and fabric covered walls: all combine to create a rare and distinctive living experience.
Peaceful haven, absolutely beautiful
From the front door, this home oozes tranquility and splendour. Our room was beautiful with little touches that made it seem homely; candles, coffee machine, milk in the fridge, tiny meringues, lovely toiletries, it seems Valérie has thought of everything! So close to the cathedral, and Valérie has good recommendations for where to eat. At night you can lay in bed and listen to the cathedral bells, which are not loud enough to stop you extremely well! We really enjoyed our stay here and will definitely be back.
Bella, United Kingdom
Perfect way to end our family vacation.
Everything about this place was special—I can't wait to go back. Our accommodation was an incredibly generously sized suite, impeccably decorated and squeaky clean.
The location was just blocks to Chartres Cathedral and the old part of town. With a pull out sofa and a cot the suite very comfortably accommodated our family of 4.
Susan, United Kingdom
Fantastic!!
The best of a very high quality series of six Chateaux/Maisons where we stayed on our visit to France. Superb room with separate toilet, bathroom and small kitchen. Close to city centre, shopping area and cultural area around the Cathedral. Take the evening 'little train' to see the lights around the city – excellent value.
John, United Kingdom