Choose from three beautifully furnished self-catering suites for your stay in Chartres. Our objective is to assure your comfort by paying attention to the little details. Find your home away from home in this charming and unique French house.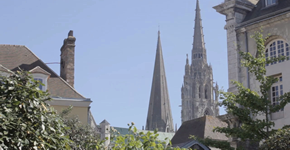 The internationally renowned medieval cathedral is known throughout the world. As Chartres reinvents itself it respects its unique heritage. Today, Chartres is known as the capital of perfume and light that never fails to surprise and inspire its visitors.
Extras to help you make the most of your moment :
∴ a breakfast basket,
∴ a comfort snack break,
∴ a massage at home,
∴ a dinner booked in advance with a restaurant in the city centre 
It is always a search for a nice location to stay and it is great if you find a place like Maison Ailleurs. Real gems exist. Beautiful building, in the city center, with private parking, the cathedral within walking distance, wonderfully quiet, excellent beds, … Perfect !